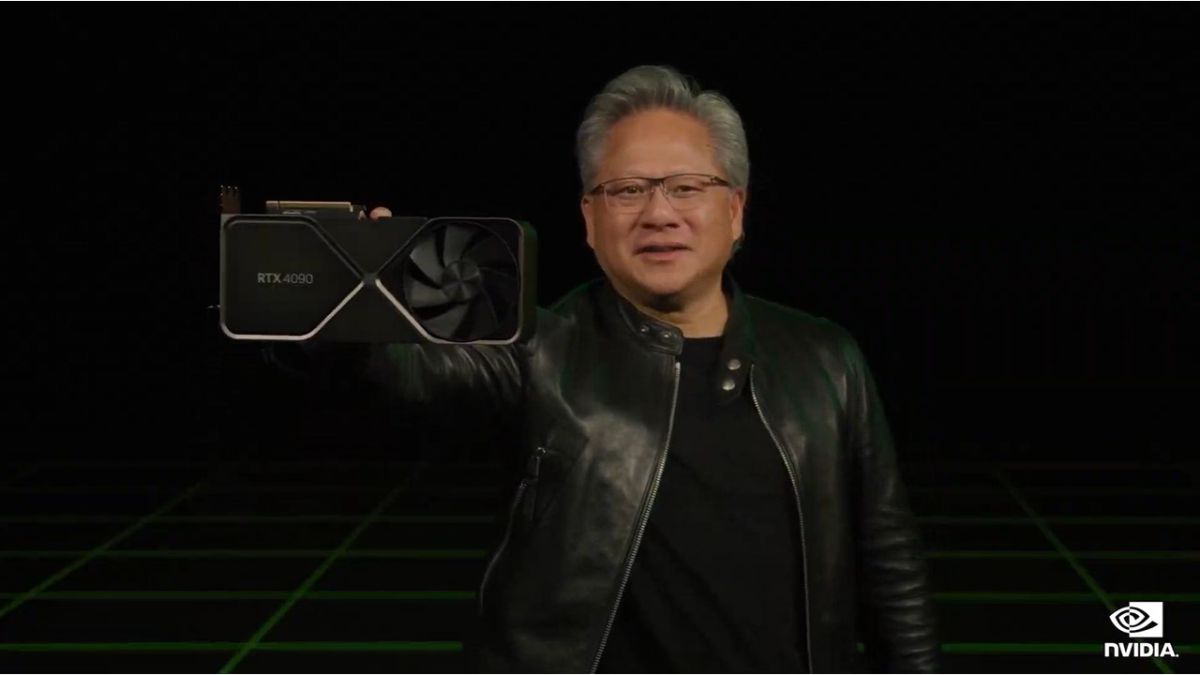 NVIDIA announces new GeForce RTX 4090 and GeForce RTX 4080
Through its digital presentation of the GTC, the Californian company NVIDIA presented its new generation of graphics cards, the GeForce RTX 4090 and GeForce RTX 4080, which promise performance up to 4 times higher than the RTX 30X generation thanks to the new DLSS 3.0 .
Architecture NVIDIA ADA LOVELACE
The new chip behind the new GPU, built with a 4-nanometer process, 46 billion transistors and micron G6X memory, will enable a new way of processing data with capacities up to 90 Shader TFLOPS and twice as much efficiency. This will also integrate the third generation of RT cores with capacities up to 200 TFLOP RT and up to 2x faster Ray-Triangle intersections. It will also feature the fourth generation of Tensor Cores with capacities up to 1,400 Tensor TFLOPS and an optical flow accelerator.
The New Technology Behind Ray Tracing
This new generation of graphics cards adds a new technology called Shader Execution Reordering, which is able to reschedule processing on the fly, which will speed up the Ray Tracing process by up to two or three times.
DLSS 3.0
The new version of NVIDIA's Deep Learning Super Sampling now incorporates new processes. In DLSS 2.0, for example, the GPU went from 1080p resolution to near 4K super resolution. With DLSS 3.0, the super resolution will be transformed into sequential 4K images and with an optical accelerator, as well as a stream accelerator, it will generate multiple images to have a more realistic image in a low latency workflow. In other words, this new technique seeks to improve some of the flaws that were found in the previous technique, especially in high resolution images with high speeds. Another advantage of this new technology is that in games that demand more from CPUs, such as those with too many physics calculations or open worlds, DLSS 3.0 allows the ADA GPU to render them at a higher frame rate than the processor itself does not allow it. It is important to note that this technology will be available on October 12 and will only be compatible with the new GeForce RTX 40 for the moment.
The new GeForce RTX 40x
The GeForce RTX 4090, which will arrive on October 12, will be up to four times more powerful than the GeForce RTX 3090 Ti and will feature 24GB of G6X memory and have an MSRP of $1,599. On the other hand, the GeForce RTX 4080 will be up to four times more powerful than the 3080 Ti and will have 16 GB of G6X memory and will have a suggested retail price starting at $1,199 depending on the model. Something surprising is that there will be GPUs with 12GB of G6X memory which can cost up to $899. The latter will be launched in November 2022.
New games with RTX
One of the surprising announcements is that Portal was developed with RTX by NVIDIA Lightspeed Studios, which used Omniverse to remaster it as if it were a mod. This title was originally released in October 2007 and was one of GTC's Games of the Year, it will now return to showcase the capabilities of DLSS 3.0 as completely free DLC for PC owners of the game.
Other games, programs and graphics engines confirmed with DLSS 3.0 support:
A Plague Tale: Requiem
atomic heart
Dark Myth: Wukong
Light Memory: Infinite
Chernobylite
Conqueror's Blade
Cyberpunk 2077
Dakar Rally
Deliver us Mars
Destroy all humans! 2 – Reproved
Dying Light 2 Stay Human
F1 22
FIST: Forged in the Shadow Torch
frostbite engine
HITMAN 3
Hogwarts Legacy
ICARUS
Jurassic World Evolution 2
Justice
Loopmancer
Marauders
Microsoft Flight Simulator
Midnight Ghost Hunt
Mount & Blade II: Bannerlord
Naraka Bladepoint
NVIDIA Omniverse
NVIDIA Racer RTX
PERISH
To tear out
STALKER 2: Heart of Chernobyl
ping
Sword and fairy 7
SYNCHRONIZED
The Lord of the Rings: Gollum
The Witcher 3: Wild Hunt
THRONE AND FREEDOM
Tower of Fantasy
Unity
Unreal engine 4 and 5
Warhammer 40,000: Darktide